We're MOVING!!
Painting with Rita will be RELOCATING TO SAN DIEGO COUNTY in 2022!
Yes!  Rita of Painting with Rita, your local Certified Bob Ross Instructor®, and her husband, Mark, will be moving back to San Diego County in February of 2022.  If you are interested in scheduling a "Paint-Like-Bob" lesson while we're still here in the Sacramento area, please do so as soon as possible or risk missing out.  Dates (especially weekends) are already booking up – and Rita still has to pack!
Paint-Like-Bob
In August 2017, Rita became a Certified Bob Ross Floral Instructor® (CRFI).  But as of December 2020, she became Certified Bob Ross Instructor® (CRI) in Landscape and is now offering landscape and floral classes in the Bob Ross Wet-on-Wet Technique® – Let's Paint Some Happy Trees!  You can click here to check out these samples of Rita's Landscape and Floral paintings.  (® = All Registered Trademarks of Bob Ross Inc.)
These days, Rita prefers teaching private and semi-private (1-2 people) "Paint-Like-Bob" sessions in her own home.  Contact Painting with Rita, today (916-767-9876), to schedule your session and lock in your date.  The maximum number for group classes in the Bob Ross Wet-on-Wet Technique® is currently eight (8).  Should you have a larger group interested in our Paint-Like Bob events, we also offer Zoom (online) Classes.  If you have any questions or if you are interested in purchasing any of Rita's art, please email rita@paintingwithrita.com.
How About Acrylic Painting
In addition to teaching the Bob Ross Wet-on-Wet Technique®, Rita also continues to offer private acrylic painting classes in-person for groups of 10 to 25 participants.  She also offers Zoom acrylic classes for larger groups.
Contact us today, and you'll be Painting with Rita soon!
Farewell to our Paint & Sip events
We're sorry to say that we are no longer offering "Paint & Sip" or "Wine & Paint" events at public venues.  My husband, Mark, and I want you to know how very grateful we are to all of our patrons – especially our frequent painters – for joining us so regularly and inviting all your friends.  A grateful shout-out, also, to all our wonderful venues.  If it wasn't for them, we would never have been able to paint with all of you.  It was so wonderful getting to know you, sharing with you the joyful and meditative experience that painting can be, and watching your creativity blossom.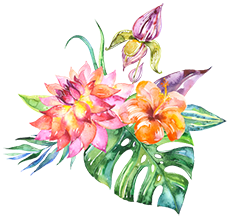 Both Mark & Rita send you our best regards, and as always, we encourage you to keep painting and